OUR HISTORY
Since 1978, Ecart International has been reissuing furniture, lighting and heritage objects from the beginning of the 20th century, saved from oblivion by the desire to make known these designers who have now become classics: Eileen Gray, Jean-Michel Frank and Adolphe Chanaux, Pierre Chareau, Michel Dufet, Mariano Fortuny…
The manufacture of all of its seating, furniture and lighting collections is French. The rugs are hand-knotted in Nepal.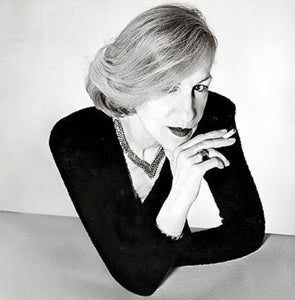 Reviewed by
The great lady of design
It was at 53 that Andrée Putman really began the career that made her famous from New York to Hong Kong. By creating Ecart International, Andrée Putman begins by resuscitating the forgotten talents of 1930s furniture ...
find out more
AN ICONIC FOUNDER
Andrée Putman, La grande dame du design brought out of the shadows in 1978 a whole forgotten section of the history of the Modern Movement and its greatest architects, whose works she protected, enhanced and disseminated. Pioneering artists supported and collected in their time by a few scholarly patrons.
Beyond an artistic and stylistic movement, Andrée Putman rediscovered the foundations of the history of our time and our modernity, a period during which architects and designers, half a century ahead of their time, had been able by capturing and materializing social transformations, to lay the foundations of a new way of life.
Far from sanctuarizing their creations, Andrée Putman, in her own words, will "help them to be reborn. The furniture reissued by Ecart International, which, half a century earlier, had been rejected for the simplicity of its lines ("less is more" said Mies van der Rohe) enjoyed great success and was distributed to a large audience. These timeless creations became best-sellers of the 1980s. Andrée Putman used them all over the world, in almost all of the orders entrusted to her, from the Morgans Hotel in New York to the fittings made for Karl Lagerfeld. in Rome or Paris.
Andrée Putman is not only at the origin of the international recognition of the works of these artists, but she also plays a major role in their protection and their heritage. "Écart" is the anagram of Trace, and it is off the beaten track, in the footsteps of this avant-garde production, that she rediscovers and spreads this fabulous heritage.
INTERNATIONAL GAP TODAY
40 years later, Ecart International is still working in the footsteps of its creator, in particular by using noble materials, promoting French know-how.
Ecart International has been enriched with contemporary collections created by Bruno Moinard, Elliott Barnes, Olivia Putman...; and by adding many pieces drawn by Andrée Putman herself which were not yet published.
Each piece is made in France in our Manufacture D'Argentat, which produces its own collection but also any custom-made piece or unique piece according to desires.
The publication of creations designed by the internal design office under the artistic direction of Andrée Putman, or resulting from collaborations with contemporary designers.

The French manufacture of all of its seating, furniture and lighting collections; the rugs are hand-knotted in Nepal. Through its collections, Ecart International remains committed to bringing to life a French tradition of eclecticism and timeless quality.

Ecart International offers the possibility of adapting and customizing all of its creations. All are original pieces faithful to the spirit of the creator for which Ecart International holds the exclusive publishing rights. Each piece is unique, signed and numbered.